Honoring 100 representative product of rural industry
VOV.VN - 17/10 morning in Hanoi, the Ministry of Commerce held a ceremony to announce and honor the representatives of 100 rural industrial products typical in 2015.
This is one of the activities within the National Programme of Industrial Promotion prescribed by the Government. The program aims to detect and promote quality products, using high value, satisfy consumer tastes, boost rural industry development.
100 honored product this time is belong to: Handicraft, agriculture, forestry, aquatic and drink process; mechanical equipment, machine, part and tool.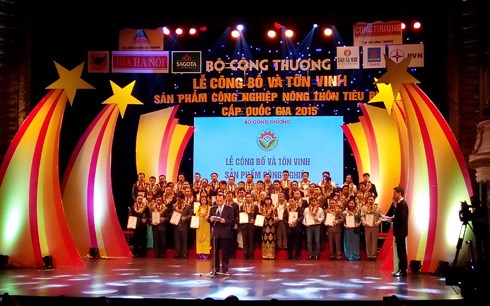 The ceremony has announced and honored 100 representatives of rural industrial product.


In the ceremony, deputy prime minister, Vu Van Ninh praised and emphasized that this is an important event of the government and the Communist Party in order to encourage organizations, companies, individuals that through these representative products had contributed a lot to the development of rural agriculture, improved the life of farmers and developed the social economy of Vietnam.
Deputy prime minister also noted that, the integration process effects deeper and wider everyday. It bring many chances but there are also challenges, difficulties for agriculture and industry, especially rural industry. Our rural industry is not really developed; our competiveness is bad; market output has many obstacles.
Deputy Prime Minister, Vu Van Ninh call upon Ministry of Commerce and local office for more effort in laying out government's policy about rural industry. In that, focus on stimulate industry activities and turn investment preferential policy to develop products, expand market, improve managing ability and competitiveness for a stable development.
"Each companies, each manufacturers need to raise the sense of initiative and creativity; applying newest technology in making and developing new products with high added value that could control domestic economy and step by step earn a name in the world." Deputy Prime Minister highly stress.
Chung Thủy/VOV - Trung tâm Tin
Source: http://vov.vn