Brand name "Vietnamese Rubber" reach out international market
CSVN Spring – Building up and developing brand name "Vietnamese Rubber" is a solution for raising prestige, competition, added value and development of Vietnam rubber industry in the direction of sustainable development.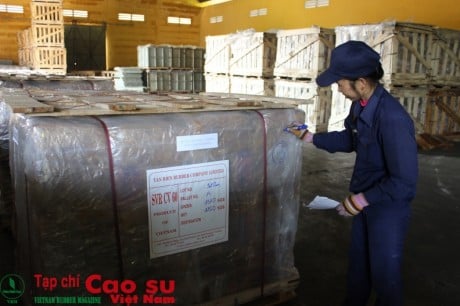 Our target is that until 2020, brand name "Vietnamese Rubber" will be used for all rubber products by VRA members. Photo: P.T

Register international trademark "Vietnamese Rubber"
Doctor Trần Thị Thúy Hoa – Office Manager of Vietnam Rubber Association (VRA) said, at the present VRA is registering international trademark as "Vietnamese Rubber" to protect trademark ownership in the target markets of Vietnamese Rubber. Before that, at the end of 2014, Association finished all necessary legal documents to register for protection of intellectual property right of trademard "Vietnamese Rubber" consisting of logo, regulation of management and using our trademark which was built by VRA. at Department of Intellectual Property Right,
"After receving protection document in Vietnam about Ownership of Trademark "Vietnamese Rubber", Association examined to find out the ways to register international Trademark which are suitable to the actual situation and potential ability of exporting rubber, as well as financial resource. We are making plan and proceeding registration" Doctor Hoa said.
According to VRA, until 2020, the target will be management and development of Trademark Vietnamese Rubber by concession of using certified Trademark "Vietnamese Rubber", in order to control, ensure prestige and quality of natural rubber of all Associates of the Association and expand to 30% enterprises which are not Associates. Until 2030, all Associates and expand up to 70% enterprises which are not Associates can use certified Trademark "Vietnamese Rubber"
Experience on Trademark of India natural rubber
On 9 May 2008, logo "Indian Natural Rubber – Quality Assured) was presented. This is a beginning of building up Trademark of Indian Natural Rubber with Quality Assured by enterprises who used this logo and pay fees for the owner – General Directorate of Indian Rubber.
The Department which is in charge of broadcasting Trademark "Indian Natural Rubber" are responsible for supporting enterprises about exporting; providing information about markets, price, new policies related; support trade promotion; provide support services for the enterprises to reach national and international standards.
In this stage, VRA is carrying out pilot of using at some companies. About 3 – 4 core companies which have production in bulk, high export value, and stable quality will be chosen for the pilot plan. "After pilot plan finishes, our Company will evaluate, learn from experience in order to improve organization and management structure, and procedure. The next step will be dissemination of information to Associate, enterprises, diffuse Trademark Vietnamese Rubber to domestic market and international market; propose priority policies for enterprises who use the Trademark; encourage enterprises to use this Trademark; check and supervise using of Trademark", Doctor Hoa told about the plan.
It's necessary to build Trademark.
According to Mr. Võ Hoàng An – VRA Duputy Director cum Geneal Secretary, rubber industry have many achievements for recent years, helped Vietnam to hold the third grade steady about output and the fouth grade about rubber export in the world. Export value of processed rubber in Vietnam develops very fast, over 30% every year. During last time, Government has many important policies to support rubber industry for value-added improvement.
However, there will be many challenges and difficulties for Vietnamese Rubber Industry during economic integration process. At the present, Vietnam exports is still limited; and it's very competitive for natural rubber industry when Vietnam join Free Trade Agreeement, with import duty 0%. Furthermore, other difficulties of rubber industry are that quality of product is not the same; many enterprises haven't had their own brand name; and competitive ability of domestic companies is not high …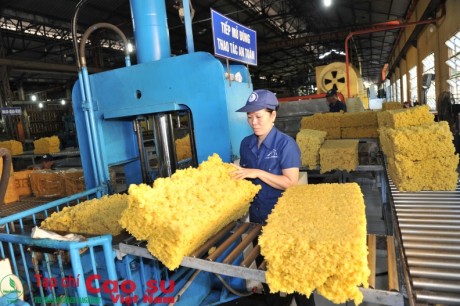 Quality must be improved to hold brand name Vietnamese Rubber steady

"It's very important to build Trademark for Rubber Industy in order to improve quality control, prestige and competitive capacity of Vietnamese Rubber Industry while economic integration process. One of the most important missions of Association and Enterprises in the coming time is to build Trademark "Vietnamse Rubber" carried out by VRA. This is a long-term process. It requires all Associates determination, patience, as well as support from Government", Mr. An said.
Deputy General Director of VRG, Mr. Lê Xuân Hòe said, through Intelectual Property of certified Trademark "Vietnamese Rubber", Asscociation, Enterprises and Government agencies will control quality of rubber products. From that, the targets such as quality of products, raising potition of Vietnamese Rubber Industry and expanding market can be achieved. At the same time, competition of Vietnamese rubber products will be improved in domestic market and international market. This will make customers trust Vietnamaese rubber products, step by step assert brand name of Vietnamese Rubber Industry on international arena.