Difference create brand name
BP – Keenly grasp market trends and be ready in cope with changes, always try to maximize advantage of natural rubber, DORUFOAM overcame difficulties and succeeded. DORUFOAM is self-confident to join international economic intergration, contribute to raise Vietnam business on international business world.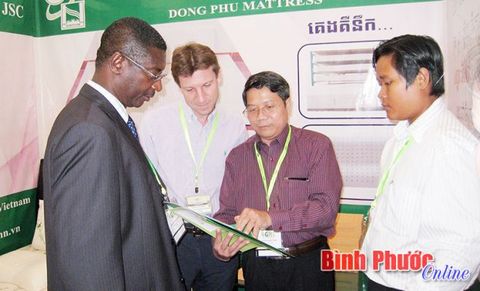 Mr. Mai Huỳnh Nhật, General Director of Dorufoam (dark shirt) is negotiating with a foreign partner at the fair of Cambodia.
Prestige and quality is our priority.
In 2008, Vietnam Rubber Group encouraged manufacture of products made of rubber in order to restrict exporting crude latex. Therefore, DORUFOAM was born, located at Tân Lập commune (Đồng Phú). For 2 years (2009-2010), the Company transferred technology and did pilot production. In 2011, the first products were released, contributed to domestic natural rubber mattress market. Mr. Mai Huỳnh Nhật, Director of the Company said: "In order to satisy international market, we must satisfy domestic market well first. So, after 3 years of innovation and upgrading modern production line imported from German and Malaysia, DORUFOAM brough out many kinds of products which have good quality with competitive price for domestic market".
With the advantage as a member of the Group, our Company has used good latex which hasn't TMTD preservative (Tetramethylthiuram Disulfide – an allergen), is assessed as good quality by foreign importers. Especially, without odour substance and processed by centrifugal cleaning with high speed, products of our company don't have nasty odour of rubber. With qualified and creative young staff, until now, our Company achieved daily average output 150 mattresses, 300 pillows, and reduced fuel cost 25% cost/product, reduced material 5%/product and reduced used electrical energy 30%.
Despite of being a young entrepreneur of the rubber industry in Vietnam, DORUFOAM is assessed as one of strong entrepreneurs in Binh Phước, has prestige of improving quality of products in the market. Follow right direction, growth rate of the following years is always higher the year before over 50%. Products of our Company got many big prizes such as: silver prize about National Quality in 2013 and top ten Vietnamese Brand…
Assert the brandname, expand market
DORUFOAM rubber mattresses and pillows are certified MS679:1999 standards about quality of products by LGM – Malaysian Rubber Deparment and RRIMCORP – Rubber Research Institute of Malaysia; are certified ISO 9001:2008 standards about quality control, ISO 14001:2004 standards about environmental protection and OHSAS 18001:2007 standards about health and safety control.
According to Mr. Lê Nhật Huỳnh, despite of difficult conditions of production – sale, DORUFOAM brought out superior products based on advantage of input material with high quality which is processed by closed production process. Consequently, our products have a competitive position in the market. All of our products have a 10-year-warranty. So, DORUFOAM can satisfy all Customers' strict requirements as our principle "Become the trust of all families in the world".
In order to expand market for the products, our Company opened 6 more branches all over the country, co-operated with 7 distributors who are experienced in mattress business and with 230 dealers in 40 provinces and cities of the country. In order to penetrate international market, our Company exported the first 3 lots of products worth 145.000 USD to China market. This created positive effects. About 3.000 mattresses and 10.000 pillows in all categories manufactured every month, our Company is accessing markets in Japan, Australia, America… "Long-term strategy of DORUFOAM is to keep the quality of products up, diversify products, expand market, develop brand name to become a strong brand name on international market". Mr. Mai Nhật Huỳnh emphasized.
Follow the principle "combine Production – Sale with local economic development in order to help residents to get income", besides paying taxes, our Company created stable jobs for local labour and contributed for local welfare activities.
A new year is coming. Although there are many challenges in the market, good results of last year will be motivation for DORUFOAM to continue asserting our brand name, increase value of rubber latex, contribute to develop rubber industry of Vietnam and help rising economic of the Province up.