VIETBUILD International Exhibition Fair Organization JSC and Can Tho Exhibition Fair.
In the morning on 12 Oct 2016, at the Investment and Trade Promotion Center and Exhibition Fair in Can Tho City, the Opening of VIETBUILD International Exhibition Fair was organized by the Information Center – Ministry of Construction, VIETBUILD International Exhibition Fair Organization JSC and Can Tho Exhibition Fair.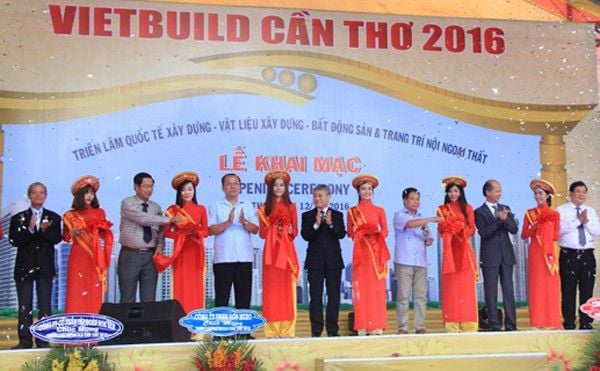 Cutting ribbon band at Opening of the Fair.
This is a yearly exhibition organized by cooperation between Ministry of Construction and Can Tho People's Committee. This Exhibition Fair is one of activities for 58-year anniversary of traditional date of Construction field and welcoming Vietnam Businessmen's date 13 Oct..
According to Mr. Bùi Phạm Khánh, Deputy Minister of Ministry of Construction, Head of Exhibition Management, Exhibition Fair is carried out in a good condition in which economic and social has achieved good results, construction materials and real-estate market have positive changes. The capital invested for real-estate market has increased stably. Investors and businessmen in real-estate field as well as buyers are excited and expect on stable and long term development. In the first nine months, real-estate field is at the second rank of domestic and foreign capital investment in Vietnam.
According to Organization Management, Can Tho VIETBUILD International Exhibition Fair in 2016 consists of 550 stalls from about 225 enterprises who work in construction field, exterior and interior decoration. In which, there are 183 domestic enterprises, 36 join-venture enterprises and foreign enterprises who come from 9 countries such as: Japan, Malaysia, Thailand, Korea, France, Singapore, America, China…
The products were displayed and introduced at the Fair were divided into main groups such as: construction – construction materials, real-estate – smart processing system and security solution; exterior and interior decoration, waterproof paint, and other materials about non-stick, super heat-insulation, soundproofed, solar power machines, direct water treatment system, and other construction machines and materials…
At Can Tho VIETBUILD in 2016, Đồng Phú Company DORUFOAM introduced to customers not only rubber pillows and mattresses but also our new products with reasonable price to satisfy different demands of customers, such as: spring mattresses with rubber surface layer, pressed cotton mattresses with rubber surface layer, etc… Especially, in Can Tho VIETBUID 2016, Đồng Phú DORUFOAM introduced the high-grade products such as wooden beds, panelled leather beds, wooden set of sofa, etc…
Furthermore, our company values market research in order to have a suitable direction for our production. It's important to define different demands of customers. From that, DORUFOAM will adjust quality and price in order to satisfy customer's requirements.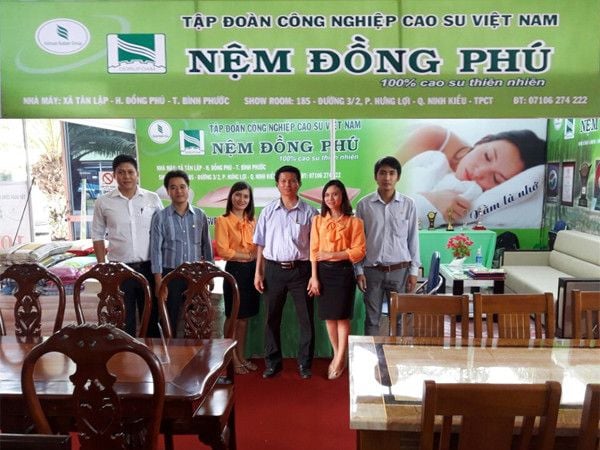 Deputy Director Đàm Duy Thảo (the third person from the left)
In order to access the market, Leadership of DORUFOAM defines that quality and variety of designs, service and customer care must be the top criteria. Besides, marketing, building and popularizing brand name to expand market and research of advertisement for product must be focused, too.
Besides Agencies, Distributors and Showroom all the whole nation, DORUFOAM is a partner of many foreign companies such as Michelin, Saficalcan (France), Tea Young (Korea), China v.v...